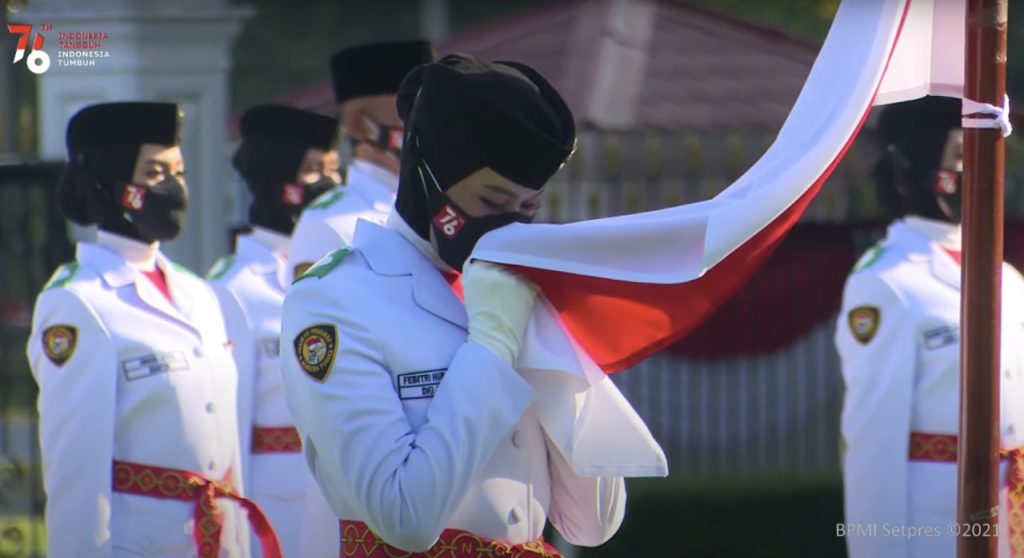 President Joko "Jokowi" Widodo, on Thursday (12/08), inaugurated 68 high school students as members of the 2021 national flag-hoisting troop, at the Merdeka Palace, Jakarta.
The inauguration ceremony was carried out by implementing strict health protocols. The President acted as inspector of the ceremony while a member of the 2021 national flag-hoisting troop from the Special Capital Region of Jakarta Febitri Nur Tsabitah led the ceremony. She also represented her colleagues to hold the national flag during the Pledge of Putra Indonesia.
The flag-hoisting troop will be in charge of raising the national flag during the Independence Day Ceremony on 17 August 2021 at the Merdeka Palace. The troop will also return to duty in the flag-lowering ceremony in the afternoon.
"May Allah, God Almighty, blesses us, today, I inaugurate you as members of the national flag-hoisting troop that will be on duty at the Merdeka Palace on 17 August 2021. May God Almighty give you grace and ease on your duty," the President said.
The Independence Day Ceremony will be held in a limited manner by only inviting the people in charge of the ceremony to be physically present at the Palace.
For the record, the flag raising and lowering ceremony will be carried out with a complete 17-8-45 formation. (TGH/UN) (FI/MMB)
The post President Jokowi Inaugurates 68 Members of 2021 National Flag-Hoisting Troop appeared first on Sekretariat Kabinet Republik Indonesia.